Vinylcut Traces
Great tool and process of cutting circuitry from conductive copper sheets that have adhesive backing.
>> http://www.kobakant.at/DIY/?p=1132
>> http://www.v2.nl/lab/blog/cutout-circuit-board
>> http://fab.cba.mit.edu/content/processes/PCB/vinylcut.html
>> http://fab.cba.mit.edu/classes/MIT/863.10/people/jie.qi/jieweek5.html
Machine: Roland CAMM-1 GX-24 Vinyl Cutter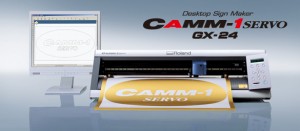 The machine works on PC and Mac. Support files can be downloaded from Roland Technical Support.

For PC, you need to install the CutStudio and Printer driver; you can also install an Illustrator or CorelDraw plugin. CutStudio allows you to import EPS (Encapsulated PostScript) and AI (Adobe Illustrator) files.

For Mac, you need to have Adobe Illustrator installed. There are CutStudio plugins for all versions from Illustrator 8 up to CS5. A second program, CutStudioOutputX, included with the plugin, actually handles the transfer of your drawing to the cutter. See the instructions included with plugin from the Roland website.